What could be better on a Sunny day with an open fire and some friends than these lamb hamburgers? We can't think of anything either!
This juicy lamb hamburger is topped with caramalised onion, burger sauce and a jalapeño to top it off! Ready in just over an hour, this is an ideal dish to prepare for a braai day. What is also great about this burger is that the additional toppings can be prepared before your guests arrive so that you need not be in the kitchen when you would prefer to spend time with them.
How to make these lamb hamburgers?
Not the average burger patty, these lamb hamburgers require quite a few ingredients. However, we can assure you that the lengthy list of ingredients are well worth it. And as proud South Africans we'd like to believe that one of the secret ingredients is the Mrs Balls Chutney sauce that provides that sweet and tangy taste. Once combined, these ingredients come together to create the perfect balance of flavour that will surprise even you!
What about Dessert?
We've prepared a list of inspired desserts that are sure to get you as excited as these lamb hamburgers. Take a look at our Top 5 South African Desserts for Heritage Day for inspiration.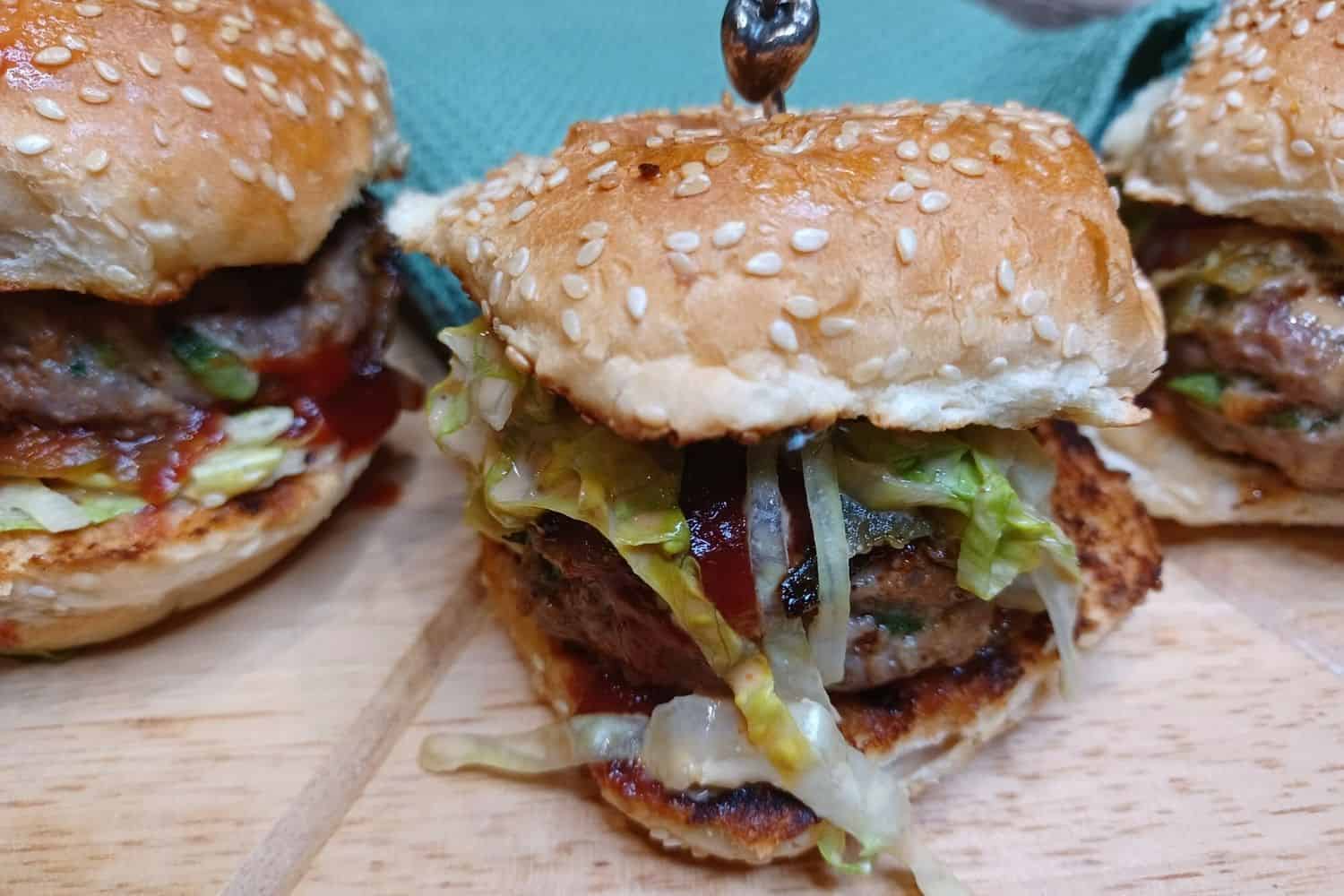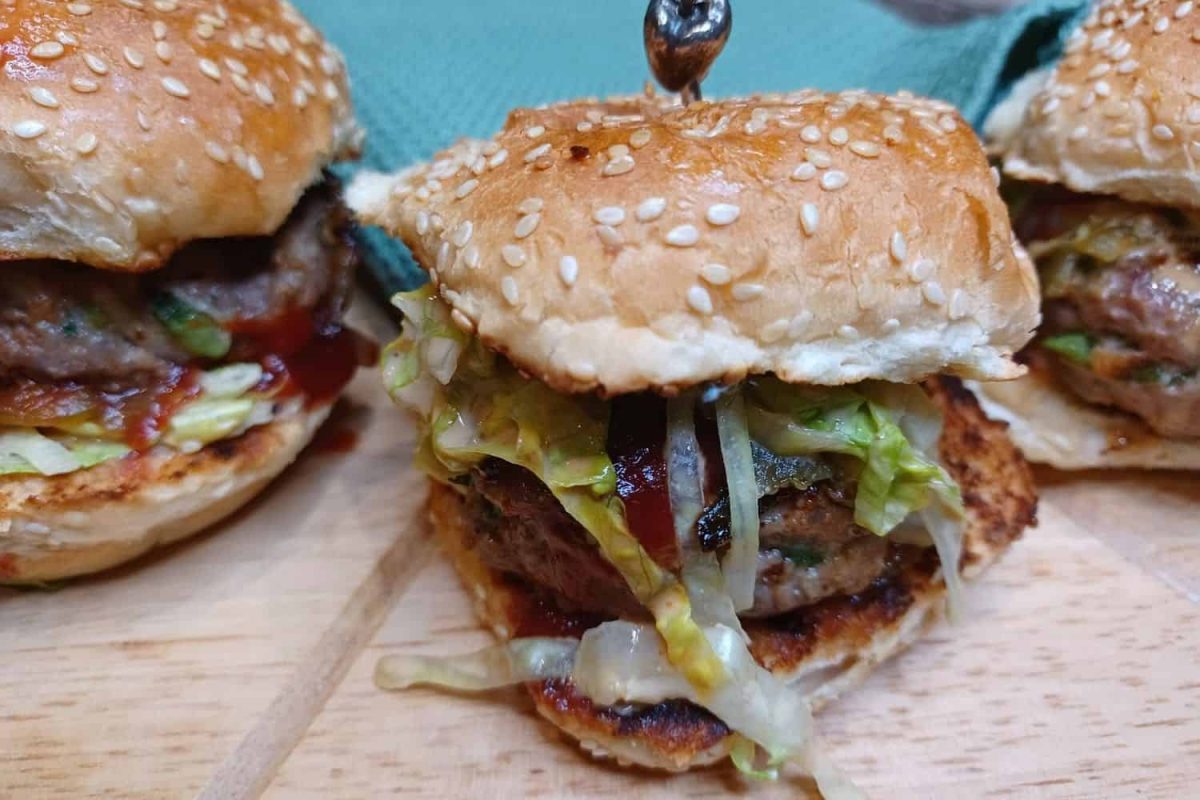 Ingredients
For the Patties:
600

g

lamb mince

1

large

onion

finely chopped

½

large

green pepper

finely chopped

3

tbsp

chutney

1

tbsp

dried coriander leaves

6

tbsp

bread crumbs

1

large

beaten

1

handful of parsley

chopped

1

handful of basil

chopped

1

tsp

dried basil leaves

½

handful of chopped rosemary

½

tsp

tsp salt

ground black pepper

to taste

8

sesame burger rolls

halved and toasted

olive oil
For the Burger Sauce:
3

tbsp

mayonnaise

2

tbsp

tomato sauce

1

tsp

Sriracha sauce

1

tsp

Worcestershire sauce

¼

iceberg lettuce

finely chopped
For the Caramalised Onions:
2

tbsp

olive oil

3

large

onions

thinly & evenly sliced

¼

cup

balsamic vinegar

1

tbsp

rosemary 

chopped
For the Garnishing:
jalapeños

lettuce

shredded
Instructions
For the Caramalised Onions:
Heat olive oil in a large pan over medium heat. Add onions and chopped rosemary with a pinch of salt. Cook slowly for about 30-40min. Stir occasionally until soft and golden caramel colour.  

Add balsamic vinegar to onions. Keep cooking on low heat for another 5mins, stirring occasionally and the vinegar has reduced. Once done, set aside.
For the Burger Sauce:
Mix all the ingredients together, add lettuce, and mix, then season to taste and refrigerate.
For the Patties:
Combine onions and green pepper together and mix well. Add the mince, mix well. Add the coriander leaves, chutney, bread crumbs, egg, parsley, basil, basil dried leaves, and rosemary, mix well. Add salt and ground black pepper.

The mixture should be firm and hold its form while cooking, if not, add more breadcrumbs.

Separate the mixture into 8 balls, then press down to form patties. Oil a dish and place patties in the fridge to chill for 15mins.

Remove patties from the fridge. Barbeque over hot coals in a prepared grid that has been sprayed with 'Spray & Cook' or prepare a non-stick frying pan on high heat. Sprinkle the patties with olive oil, then into the pan, press down with a spatula. After 4 minutes, flip the patties.

In another pan, toast two halved rolls until lightly golden. Repeat with remaining rolls.
To Assemble:
Add burger sauce to half of the bun, top with a patty, and a few sliced jalapeños. On the other side of the bun spread with caramelised onions. Add a teaspoon of tomato sauce, on the patty, gently press together.